If you're looking for a quiet piece of heaven on earth, you've come to the right place. Five hours north of Delhi, India between the holy cities of Haridwar and Rishikesh, Aurovalley ashram is the perfect place along the Ganges River for the soul to find rest and inner peace. Because the ashram is in the jungle away from it all, it's more conducive to meditation and mindfulness. There's a beautiful new building called the world temple full of guest rooms outfitted with marble floors, queen size beds and rooms for families of four. I was placed in the old building where the water didn't work and I took showers out of a bucket. I loved it…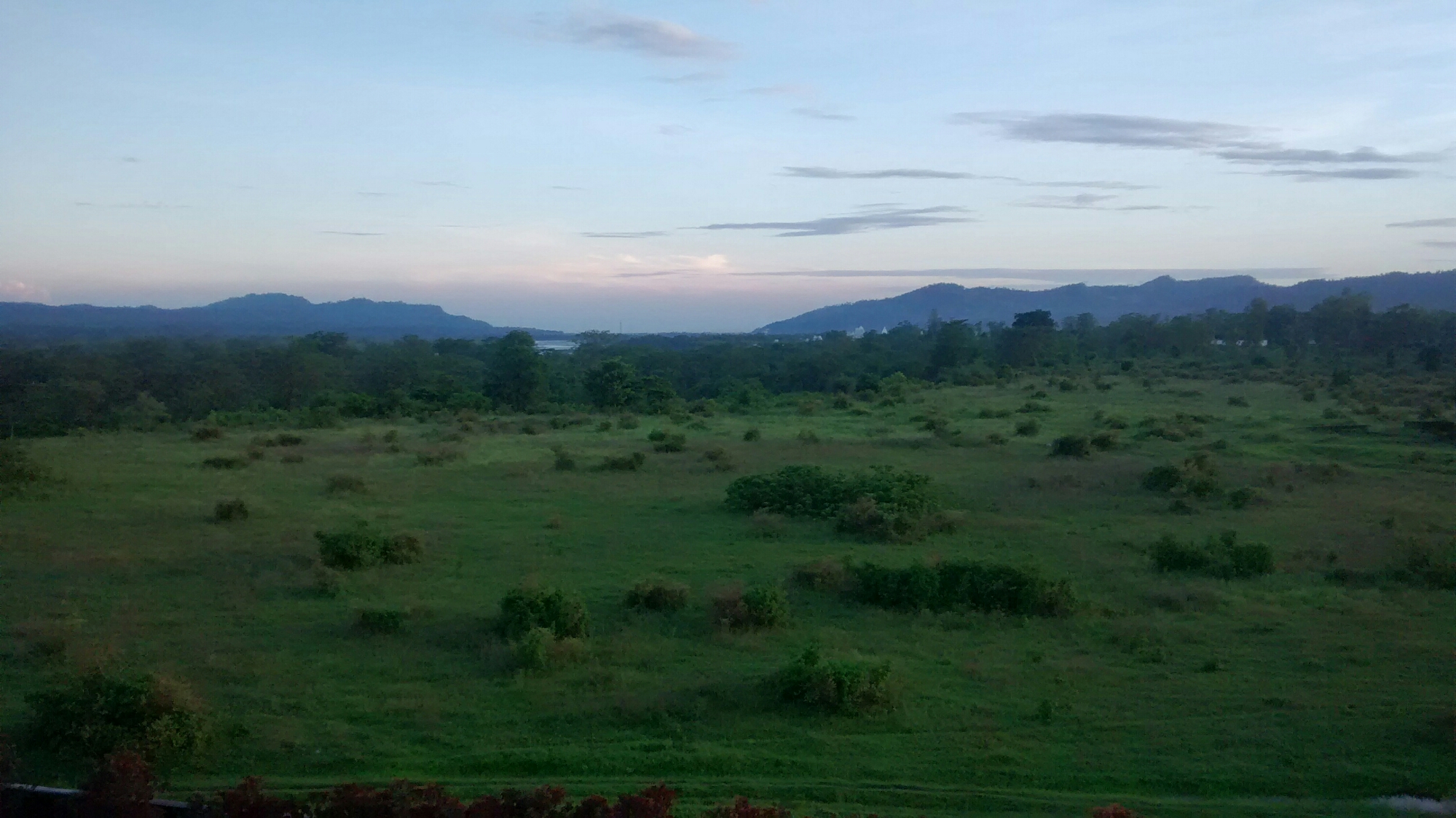 5am: Wake Up
A waterfall of birdsong awakens me every dawn. It's like nothing I've heard before: Hundreds of birds singing out to the rising sun. It makes my heart smile. It's a serene way to start the day.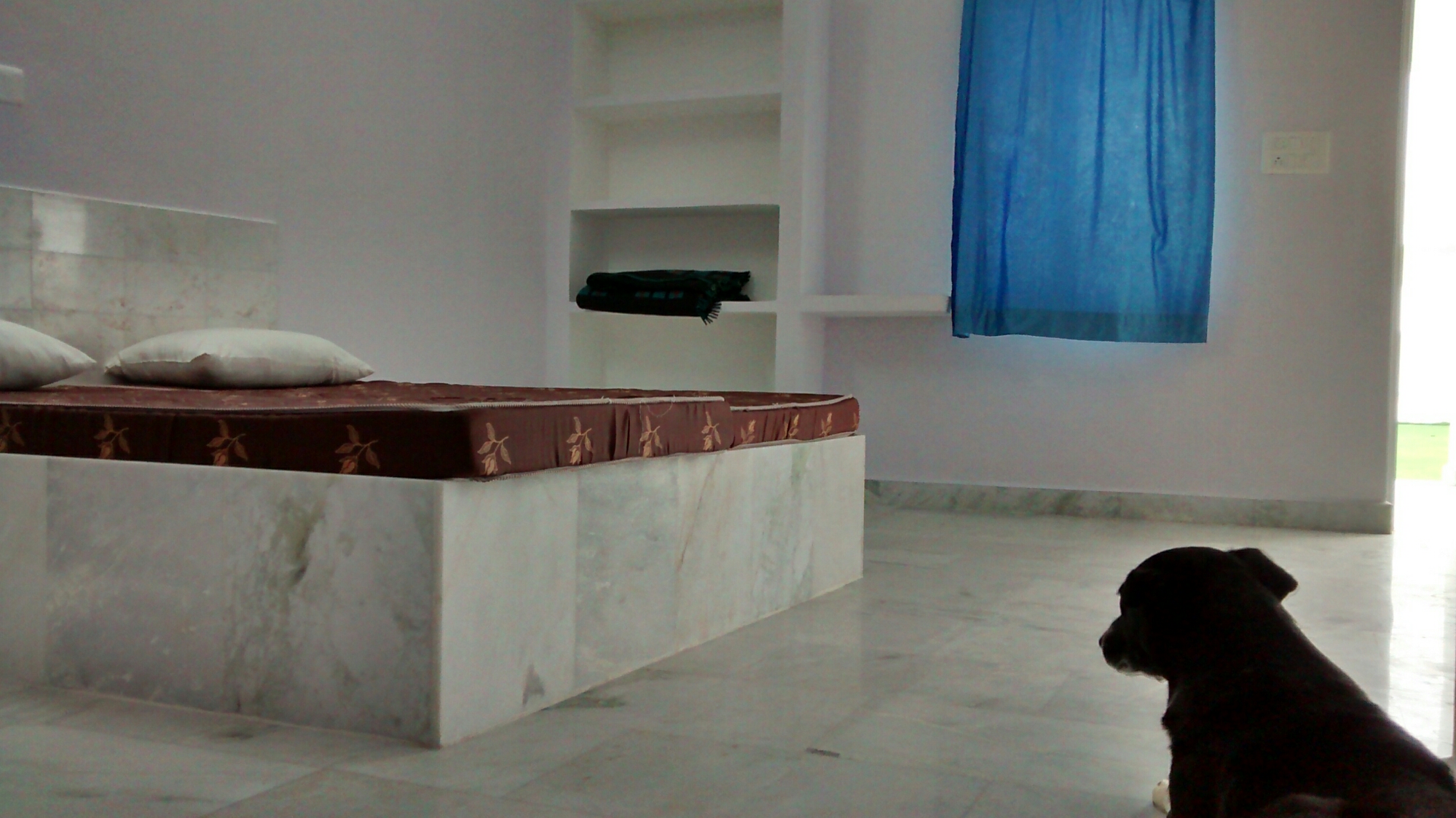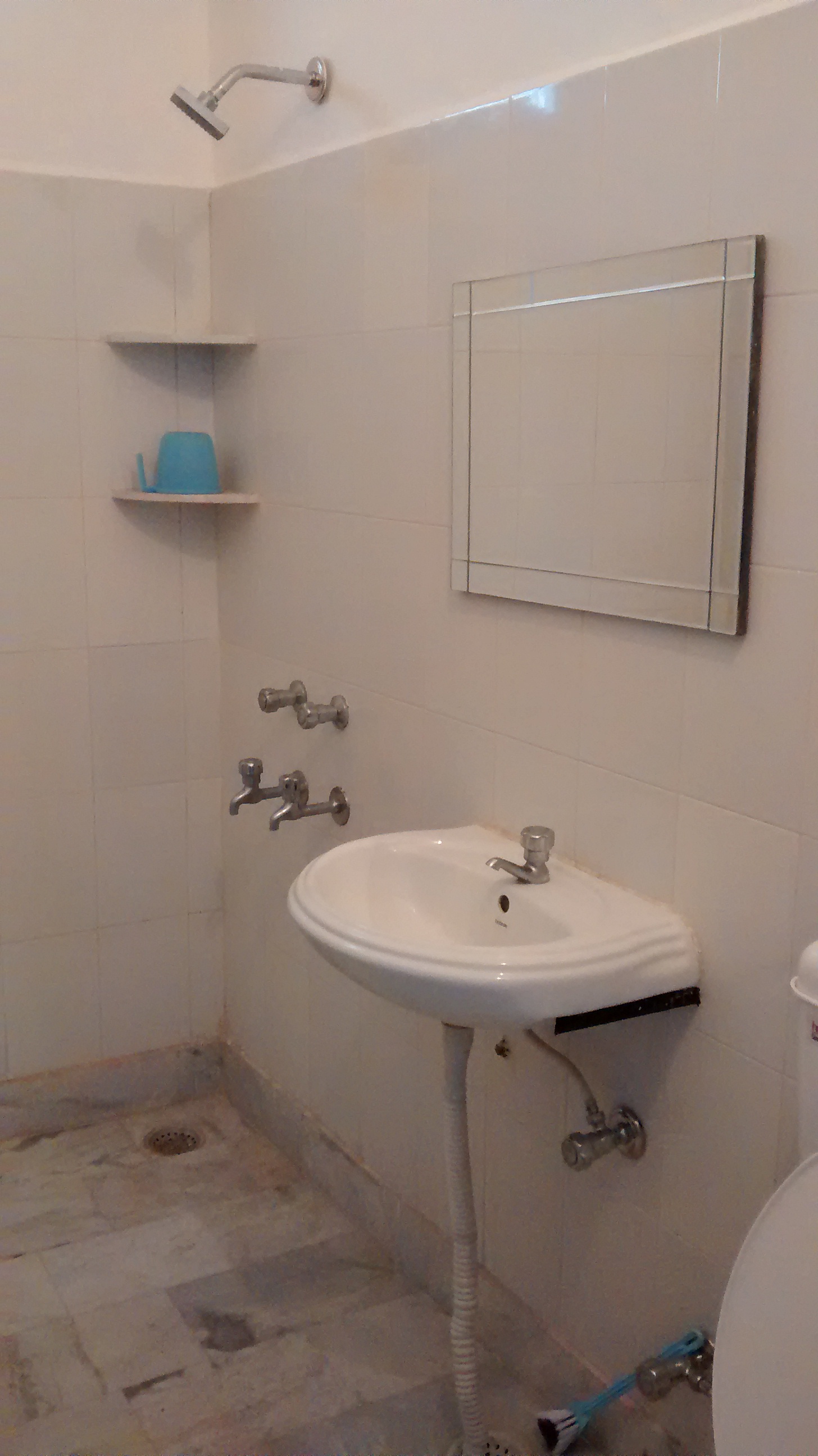 6am: Meditation
Group meditation begins in the marble halls of the ashram's temple. Orange pillows are laid out for everyone to sit in silence. The goal is to focus on your breath, allow your mind to repeat mantras and be mindful of the present. A cool breeze flows in and out of the temple that allows me to feel at ease while listening to the heartbeat of nature. It's monsoon season so it's especially beautiful when it rains. You can see the jungle shiver, turn a deeper shade of green. Showers fall all around me, creating a vibrant music that is at once breathtaking and disarming.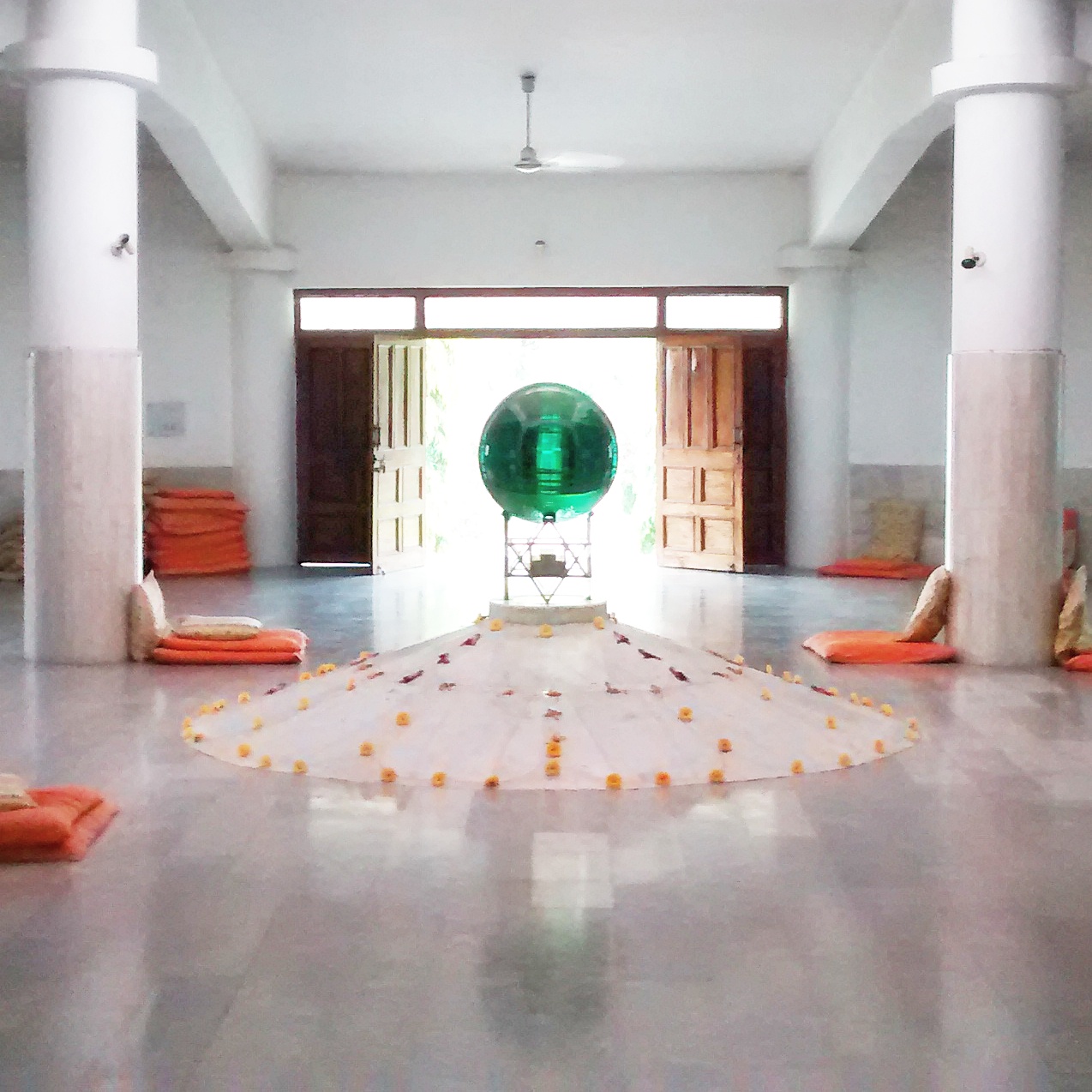 7am: Yoga
Yoga begins in a beautiful white marble hall where everyone is led into a practice of body awakening stretches and asanas (postures). Yoga itself means union, and whereas in America there is a demand and focus on asanas, the actual practice of yoga is more holistic. Everything from your diet to your breath to your movements are part of the practice. No one wears tight gym clothes, sports bras or lululemon, loose fitting modest Indian dress is the daily uniform. We end every session with a mantra, "Shanti! Shanti! Shanti! Om." Shanti means peace. Om is a mystical word in sanskrit that is said to be the first word spoken by the universe.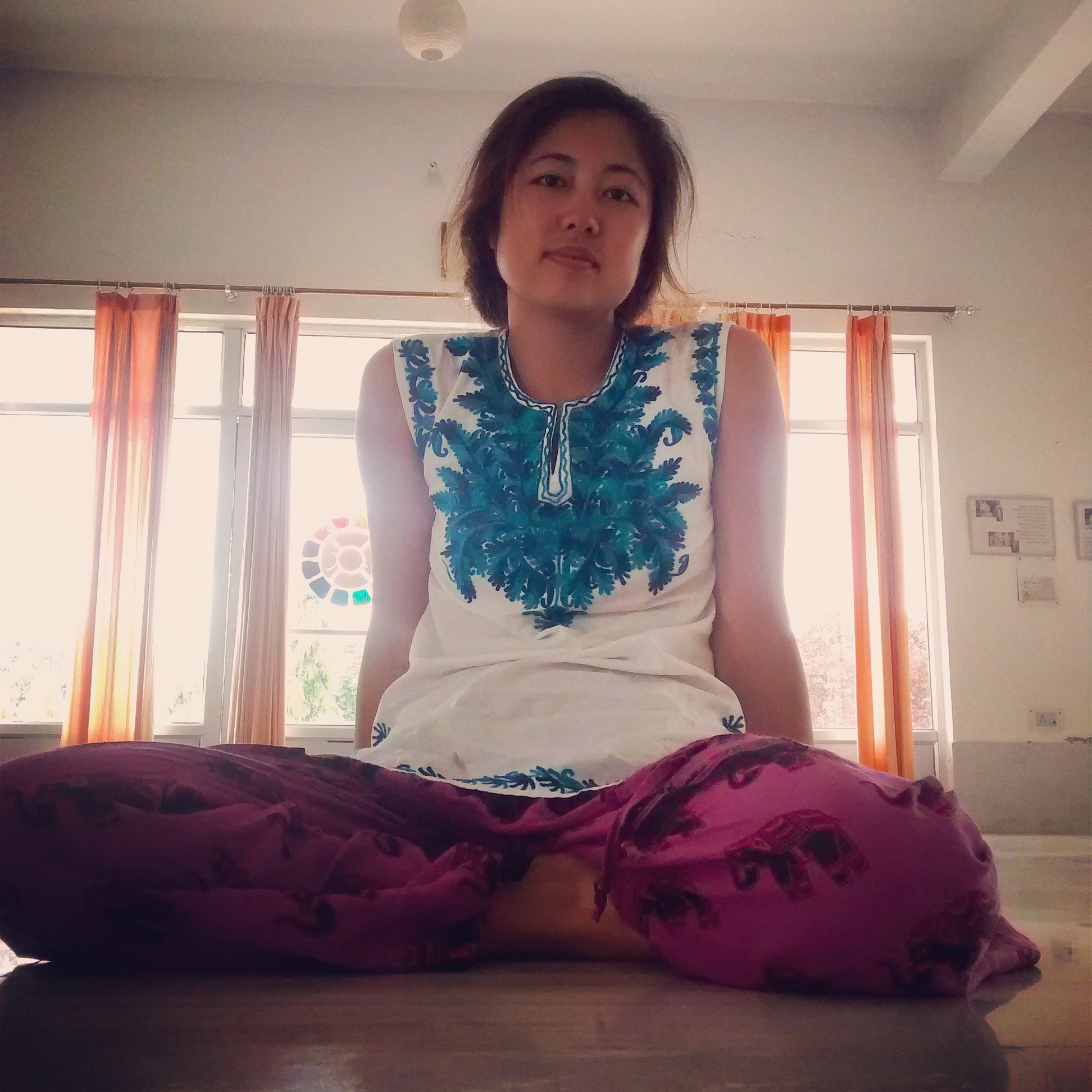 8am: Breakfast
Prasad is the gift of food that is offered to the gods and with their blessing, distributed to us common folk. Prasad is taken in silence in the dining hall. For breakfast that usually consists of a plain lassi, banana or other seasonal fruit, and maybe an Indian-style porridge like daliya made of dry cracked wheat. Silence is encouraged to be mindful that when you eat, you are offering food to your body which houses and nourishes the divine within you. The idea is to honor your body like a temple and hunger will pass.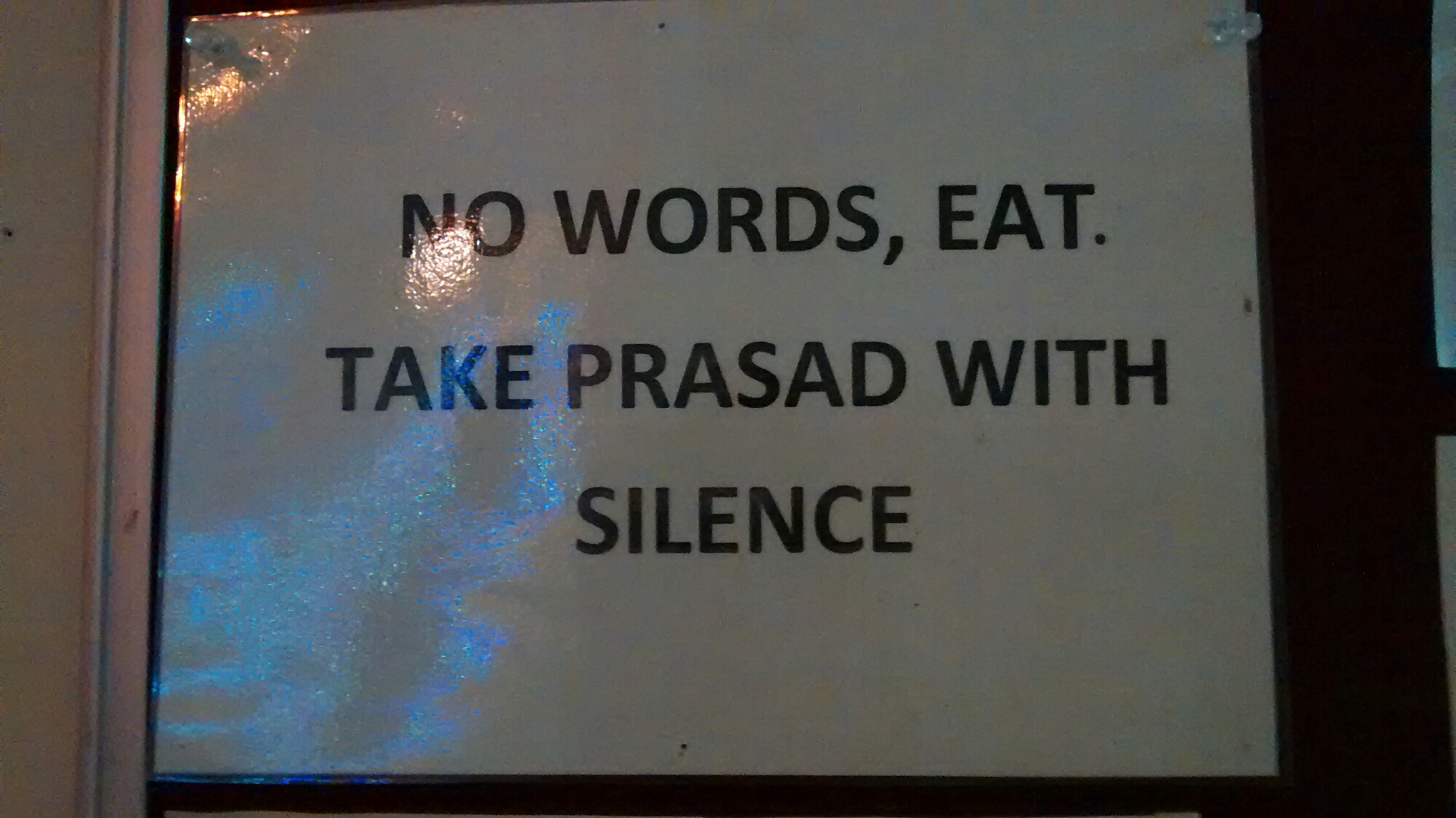 9am: Karma Yoga / Study Period
Karma yoga means helping out around the ashram. You're expected to wash and dry your dishes after all meals. You can also do some chores, sweep the leaves or even help out with the ashram's school that offers free education to children and vocational training to young women from neighboring villages. I enjoyed grabbing a book from the well-stocked library and reading up on the writings of Sri Aurobindo and the Mother, the inspirations behind Aurovalley and the origin of the ashram's namesake. Oh, and did I mention there is free wifi everywhere?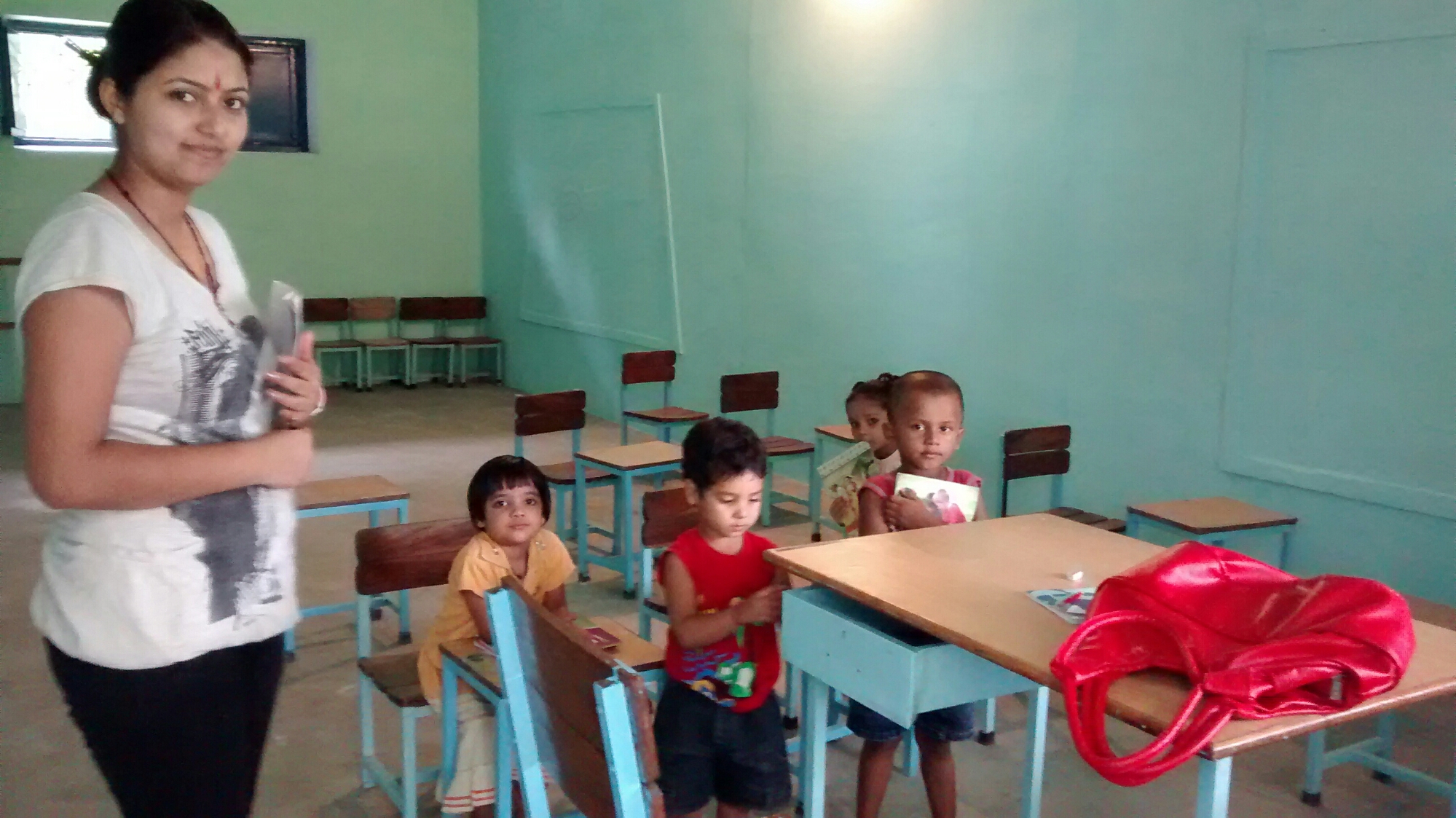 11:30am: Satsang; Q & A with Swami Brahmdev
This is considered the highlight of the ashram. The daily discussion with Swami Brahmdev happens in a white marble library filled with books by Sri Aurobindo and the Mother. Colorful pillows dot the floor and windows flood the circular hall with light. It's amusing to postulate on the meaning of life, purpose of love, the soul and death with Swami Brahmdev; he'll answer any question you have. Though his answers may sometimes leave you puzzled, they have a few common themes: live life conscientiously, know yourself and heed the divine light within you.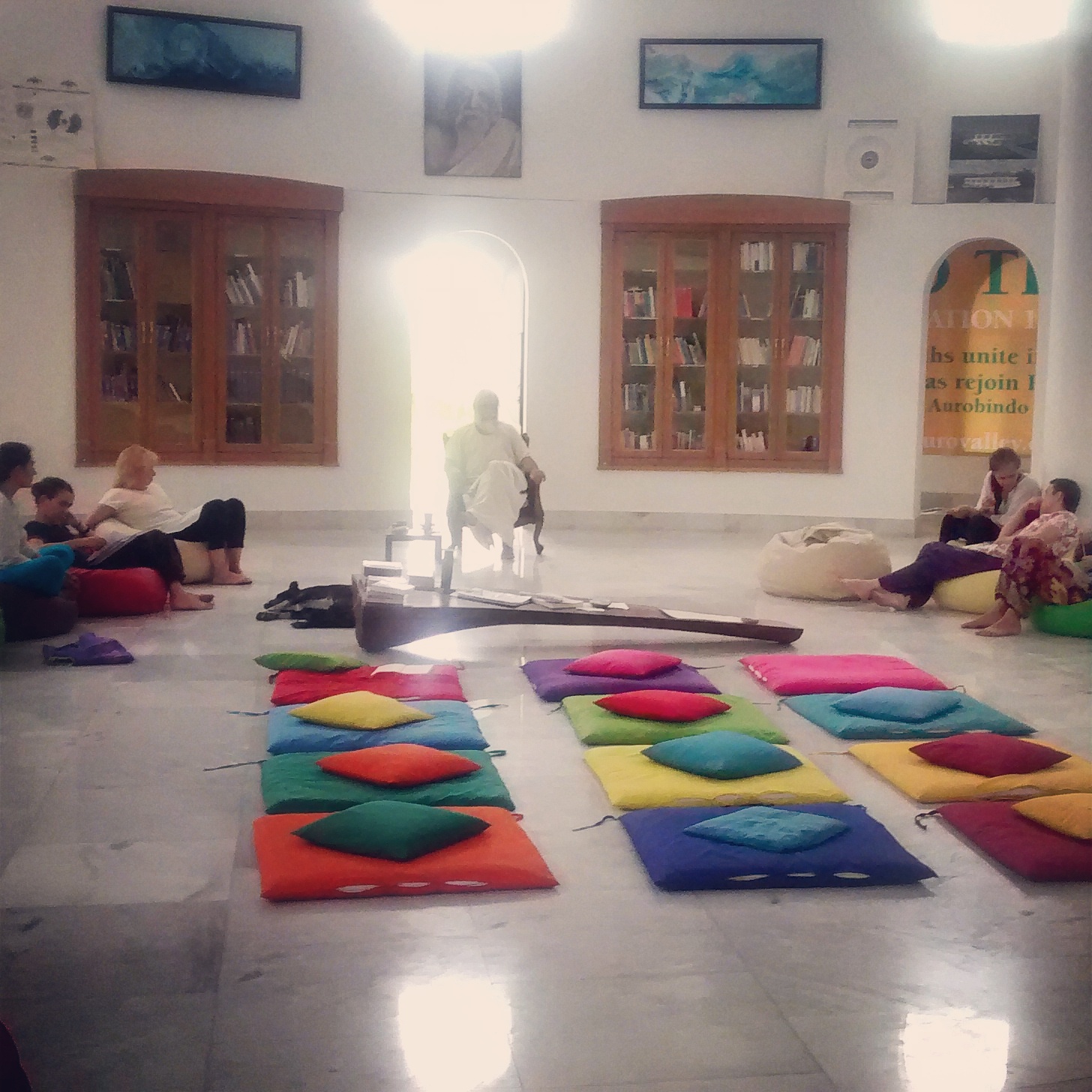 1pm: Lunch
Two kinds of Indian vegetarian dishes are usually served with chipati, rice and seasonal fruit. If you don't want to eat in silence, you can go out into the courtyard. I enjoyed socializing with the different people at the ashram. Many are young women "searching for themselves." Yeah, ok, I fall into this category. This ashram is also popular among Russians and Columbians. Russians view it as a farm stay of sorts, a quiet, inexpensive and peaceful place to bring the family when it gets cold in Russia. Aurovalley has a sister ashram in Columbia and there are Columbians here at the ashram whom have never left.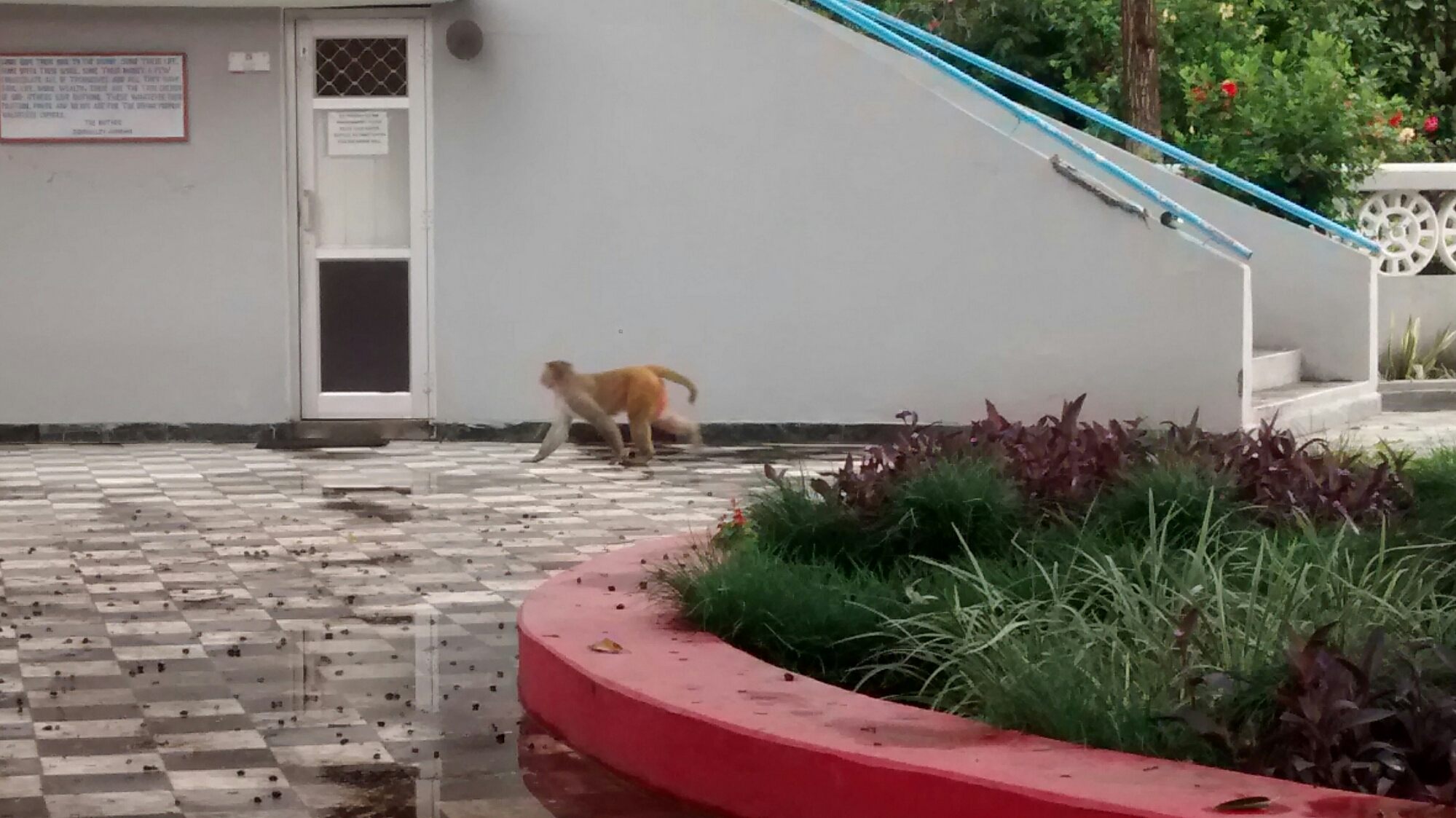 3:30pm: Tea
A bell sounds for tea time by the dining hall. Indian chai is delicious. But since there's a gap in the day's activities, if you ever want to leave the ashram to visit Rishikesh or swim in the Ganges River, which is just down the road from the ashram, people usually do so around this time.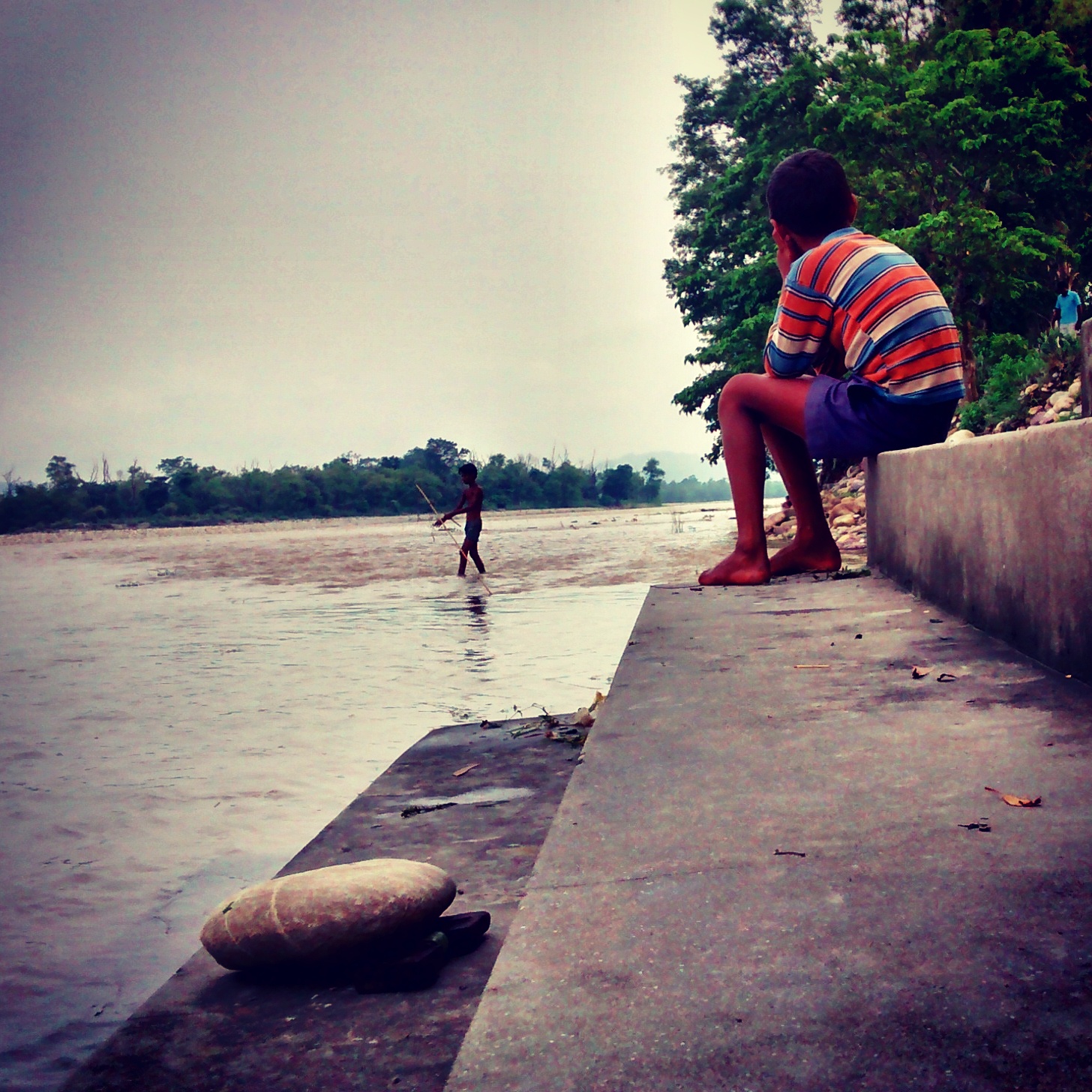 4pm: Individual study or practice / karma yoga
Some people live at the ashram and pay their way through service by managing the guest rooms. Others practice karma yoga by volunteering in the kitchen and serving food. I take this time to read up on the writings of Sri Aurobindo and the Mother. This twosome founded Auroville, an altruistic UNESCO-endorsed experimental town in South India. They passed away decades ago, but their inspirational quotes and portraits live forever in the ashram. Swami Brahmdev is a follower of their teachings. He was a lawyer by training, but discovered his spiritual calling to serve the divine by building the Aurovalley ashram, providing free education to local communities and spreading the wisdom of Sri Aurobindo and the Mother.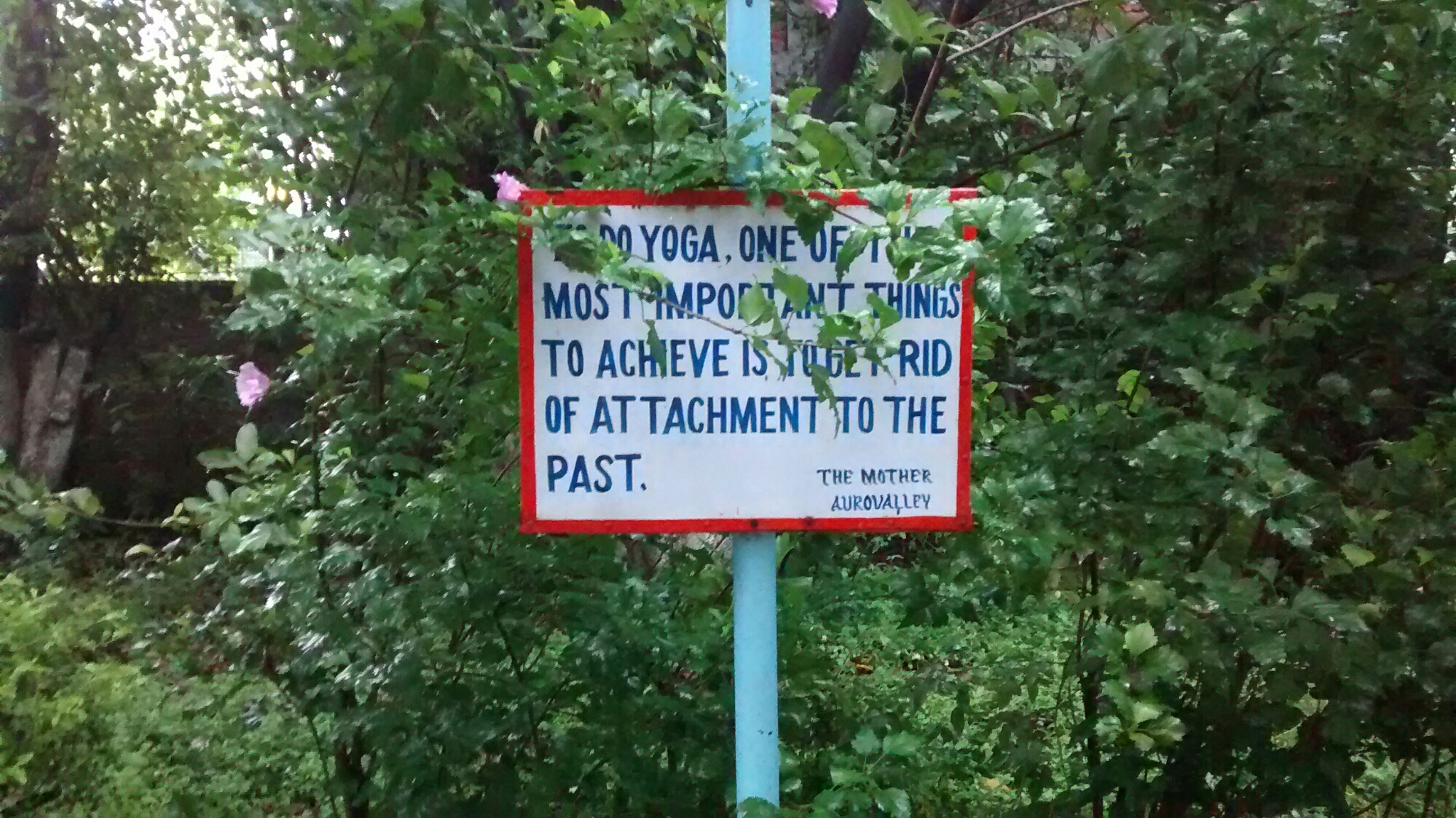 5pm: Yoga asanas
Usually there's a second yoga session in the day, but because I'm here during monsoon season, there is no teacher to teach a second class. In fact, the ashram is pretty empty. Perhaps only a dozen people in total. While it's great to have fewer social distractions when you're trying to do some soul searching, it would be helpful to have a more active yoga schedule.
6pm: Meditation / Kirtan
Swami Brahmdev is not big on kirtan/chanting, so really this is just another opportunity to meditate. I find my mind wanders. A lot. On a bad day I'll have multiple thoughts screaming in my head and I'll need to repeatedly clear my mind with difficulty. On other days I regress and sometimes I come to remember beautiful memories from my past. Somewhere in that calm, I find inner peace. It's a joyful feeling. For a few glorious moments my insecurities, jealousies, negativity, concerns and burdens melt away. Something about being in the middle of nowhere, living in a room with no running water, being free from materialism, judgement, and other distractions – wearing no make up, hair dishevelled, clothes unkempt, and no one to impress – Somewhere in that simplicity, disruptive thoughts in my head disappear and I feel incredibly free and happy to be alive and well.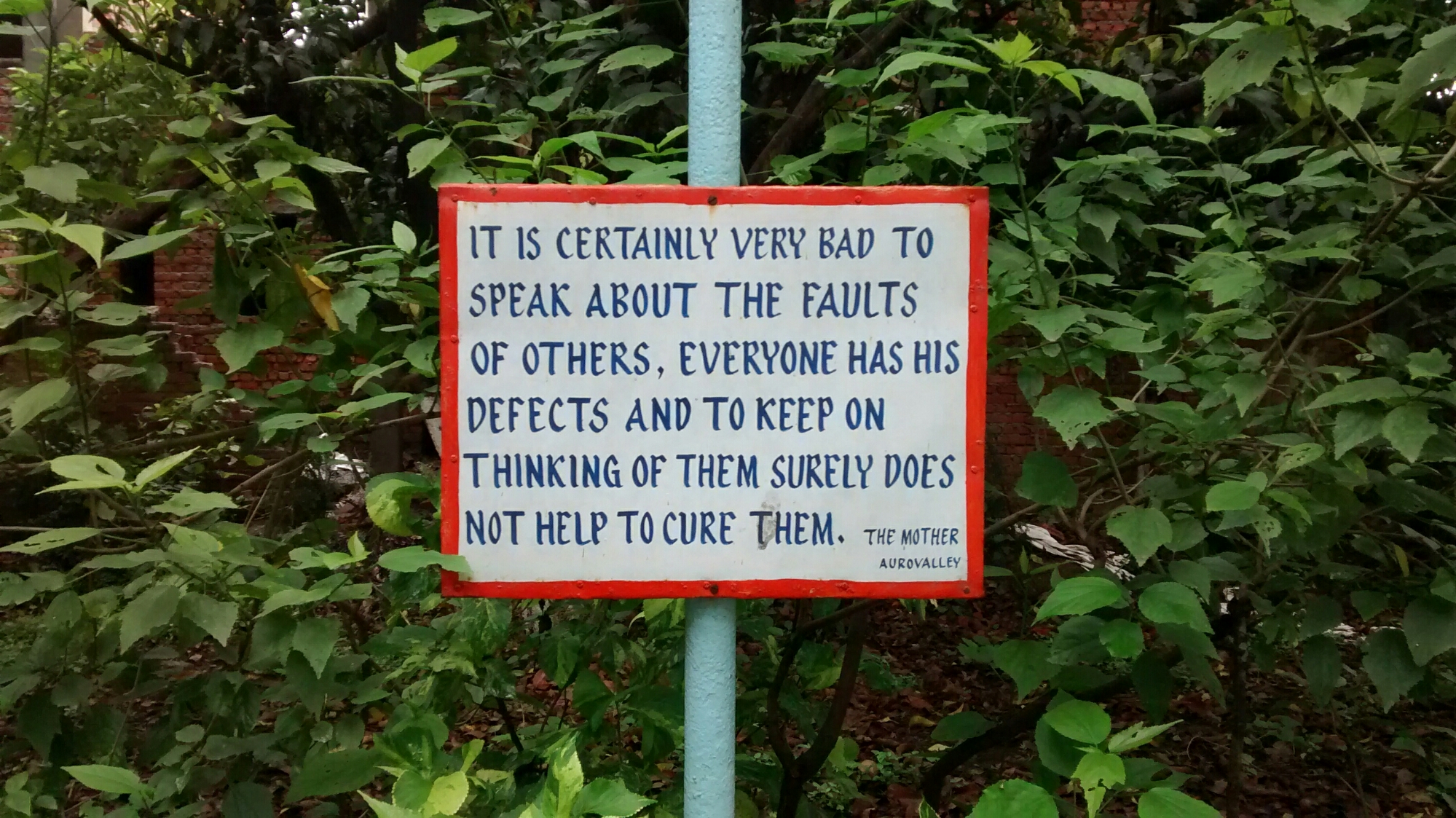 7pm: Dinner
Another serving of two kinds of vegetables, usually lentils, chickpeas, maybe eggplant or okra, rice, chipati and whatever wasn't finished at lunch. I love Indian food so even though some people may find the food to be lacking, I find it satisfying and nourishing.
8pm: Cultural Programmes; reading, videos, talks, singing, dancing
The teachers who usually lead dance and music classes are gone because it's slow season. Our yoga teacher fills in with art activities, readings of the Mother and Sri Aurobindo, and videos of the ashram. This is another time when I feel that while it's great to have fewer people around, it would be nice to have some of the cooler activities available. I'm also told that Swami Brahmdev usually travels abroad during monsoon season, so we're lucky to at least have satsang with him this year.
Upon researching ashrams, I initially wanted to go to Phool Chatti, but it was closed during monsoon season. My next choices were Aurovalley and Anand Prakash. I couldn't decide between the two so I went to both, four nights at Aurovalley and three nights at Anand Prakash. I'm glad I split it up this way so as to get a sense of their differences. If I had to choose one ashram though, I would choose Aurovalley. It's just way more spacious, quiet and beautiful and the perfect place for the spirit to awaken.